Wesley Memorial Hospital was established by the United Methodist Church in 1904. Chartered with 50 beds and a staff of only 34 doctors, the hospital operated out of a renovated antebellum mansion at the intersection of Wheat and Collins Streets (now Courtland Street and Auburn Avenue). The "Calico House"—so named for the swirled effect of its painted exterior, which resembled a pattern of calico fabric—had served as headquarters of Captain Orlando M. Poe (General William T. Sherman's chief engineer) during the Federal occupation of Atlanta in 1864. The facility also accommodated a nurses' training school, the forerunner of today's Nell Hodgson Woodruff School of Nursing.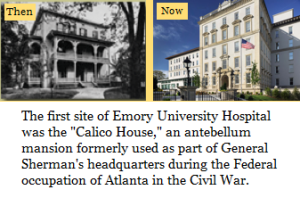 In 1922, Wesley Memorial was moved to its current site (now Emory University Hospital), a new, 275-bed building in Druid Hills for which Asa Candler had personally donated roughly $1.25 million. The Calico House's hospital personnel and 25 patients were transported the 5 miles to Emory in a fleet of ambulances borrowed from local morticians.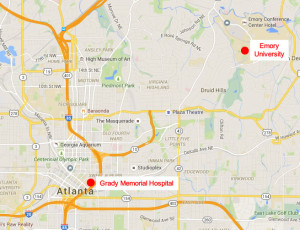 Despite Emory's resources, the transition was not an immediate success. Before widespread adoption of the car, Atlantans did not want to travel to a hospital outside the city (preferring to visit Grady Memorial Hospital), and medical students rarely rotated through the struggling facility. The patients, after all, were at Grady. Emory's junior and senior medical students continued much of their clinical training at Grady—a tradition that, today, has lasted more than a century.
Related Links/Sources
• The Legacy of Emory at Grady: The Beginning (Pt 1)
• Emory University School of Medicine
• Emory University Department of Medicine
• Emory University Hospital
• Grady Health System
• Jordan Messler's April 2015 presentation at Emory Department of Medicine Grand Rounds
• A Marriage Made in Atlanta
• Emory at Grady
• Raising the Bar: 150 years of a Medical School in Motion
• Atlanta and Environs: A Chronicle of Its People and Events, 1880s-1930s