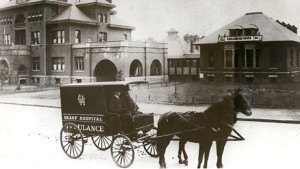 It was an unlikely partnership—a newly formed, suburban medical school and an urban hospital for the poor—but it's one that has stood the test of time. For the past 100 years, every Emory medical student has received clinical training at Grady. Over the next few months, we'll be exploring the remarkable history of #EmoryAtGrady.
On June 28, 1915, Emory University School of Medicine officially opened its doors. The medical school's original site (a building formerly occupied by Atlanta College of Medicine, one of its many predecessors) was located across the street from Grady Memorial Hospital.
THE BEGINNING
In the early 1900s, the Carnegie Foundation commissioned a young research scholar named Abraham Flexner to evaluate the state of medical education in North America. After visiting each of the 155 medical schools in the United States and Canada, Flexner published a grim report on the American medical education system—or lack thereof. Without a standardized model to follow, the United States had become saturated with "diploma mills" and proprietary medical schools with drastically different levels of academic rigor, resources, and training opportunities.
The Flexner Report was scathing in its critique, denouncing the majority of U.S. medical schools for reasons ranging from unsanitary working conditions to a blatant lack of clinical experience. Flexner called for drastic, widespread educational reform. One of his strongest recommendations was to train future physicians in a hands-on, scientific manner. In response to his findings, the American Medical Association and the Association of American Medical Colleges pressured medical schools across the country to either align with accredited universities or shut down their programs.
Of the four medical schools in Atlanta at the time, Flexner gave his most favorable reviews to the two institutions that would later form Emory University School of Medicine. The Atlanta College of Physicians & Surgeons and its rival, Atlanta School of Medicine, were cleaner and better equipped than Atlanta's other medical schools—and they had access to "fairly abundant clinical material" at Grady.
In 1913, the two "good" Atlanta medical schools merged under the name Atlanta Medical College. Two years later—taking advantage of a Flexner-inspired incentive program—the college transferred its $22,000 of property holdings to Emory University and was renamed Emory University School of Medicine. But there was a catch: at the time, Emory didn't have a hospital where students could interact with patients. Thus, Grady and Emory came to an agreement: Emory medical students would receive hands-on clinical training at Grady, and Grady would secure a steady, competent workforce.
Over the past century, Emory and Grady have witnessed their share of controversy, triumph, and change. However, two facts remain constant about their relationship: it is symbiotic, and it has endured.
Related Links/Sources
• The Legacy of Emory at Grady: The Early Years (Pt 2)
• Emory University School of Medicine
• Emory University Department of Medicine
• Grady Health System
• Jordan Messler's April 2015 presentation at Medicine Grand Rounds
• A Marriage Made in Atlanta
• Emory at Grady
• Raising the Bar: 150 years of a Medical School in Motion